Carbon brushes for electrical machines
Carbon brushes are special conductive parts of a current collector, which are used for current supply in collectors and collector rings of electric rotating machines.
Company LEG ltd. manufactures brushes of any size, production by Client's individual order is also possible.
During existence of LEG Ltd. company has created carbon brush materials for all modern areas of application. We think that our offered solutions are the most efficient in the majority of application areas in the world for today.
For convenience of consumers we offer the classification of carbon brushes materials according to basic conditions of brush movement but not according to the technology of production.
Within scopes of the class carbon brushes differ in price and quality characteristics. That's why every client of ours will be able to find the qualitative production for reasonable prices for any area of application.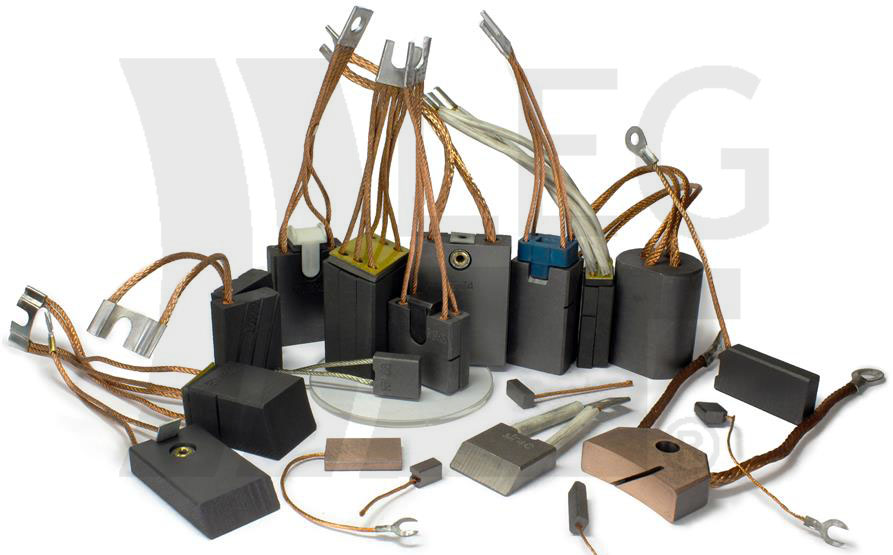 Stamps and technical properties of electric brushes produced by Company LEG Ltd.
Stamps of brush
Specific electrical resistance, mkOm*m

Voltage drop on a pair of brushes, W
Friction factor, not more
Wear on the SCC installation, mm, not more
Line speed, m/sec, not more
Current density, A/cm2, not more
Recommended specific pressure upon brush, kPa
БДХ 30
(BDH 30)

from 5 to 20
from 0,9 to 2,3
0,20
0,30
80
12
from 15 to 25
БДХ 40
(BDH 40)

from 25 to 45
from 0,8 to 3,0
0,20
0,30
40
12
from 15 to 40
БДХ 50
(BDH 50)
БДХ 50Ф
(BDH 50F)

from 40 to 85
from 1,0 to 3,3
0,20
0,30
50
15
from 35 to 45
МГ
(MG)
from 0,03 to 0,12
not more 0,3
0,20
0,80
50
50
from 15 to 25
МГ-4
(MG-4)
from 0,3 to 1,3
not more 1,6
0,20
0,30
50
40
from 20 to 40
МГСО
(MGSO)
from 0,1 to 0,3
not more 0,35
0,24
0,60
50
45
from 15 to 40
М1
from 3 to 13
from 1,0 to 1,8
0,25
0,18
50
30
from 15 to 50
М1А
from 1,5 to 8
from 0,8 to 1,8
0,22
0,18
50
30
from 25 to 70
EG 8220
from 42 to 72
from 2,3 to 3,6
0,15
0,30
60
20
from 20 to 60
EG 3003
from 10 to 20
from 1,1 to 2,3
0,15
0,30
90
15
from 11 to 25
EG 4003
from 30 to 50
from 0,7 to 2,3
0,15
0,30
40
12
from 26 to 40
EG 5003
from 42 to 85
from 2,0 to 3,3
0,20
0,30
50
14
from 18 to 60
EG 5010
from 30 to 65
from 1,0 to 2,6
0,15
0,30
50
15
from 25 to 50
EG 5020
from 45 to 70
from 1,8 to 3,0
0,15
0,30
60
20
from 34 to 49
EG 313
from 42 to 52
from 2,3 to 3,0
0,12
0,30
50
12
from 17 to 30
LFC 554
from 17 to 23
from 2,3 to 3,0
0,20
0,30
90
13
from 9 to 20
F2003
from 5 to 16
from 1,2 to 2,5
0,20
0,30
80
17
from 10 to 25
FE6X
from 55 to 100
from 1,6 to 3,6
0,22
0,25
55
30
from 25 to 60
EF54
from 25 to 50

from 1,2 to 2,6

0,2
0,30

60
15

from 20 to 50

EF-61
from 50 to 100

from 1,5 to 3,2
0,23
0,28
55

15
from 20 to 50

EF-68
from 38 to 78
from 1,6 to 3,8
0,23
0,25
20
30
from 25 to 60
50
15
EG 4010
from 20 to 50
from 0,8 to 2,4
0,16
0,30
40
14
from 25 to 40
EG 4012
from 25 to 60
from 1,0 to 3,3
0,17
0,30
40
12
from 30 to 50
EG 5012
from 27 to 65
from 1,1 to 3,6
0,16
0,30
55
12
from 35 to 55
EG 9040
from 10 to 20
from 1,0 to 2,2
0,15
0,30
40
15
from 30 to 40
ЭГ2А
from 12 to 26
from 0,9 to 1,9
0,23
0,40
70
18
from 20 to 50
ЭГ2АФ
from 13 to 25
from 1,1 to 2,1
0,23
0,40
90
18
from 15 to 25
ЭГ4
from 6 to 16
from 0,8 to 2,0
0,25
0,60
80
20
from 15 to 25
ЭГ8
from 36 to 50
from 1,0 to 1,8
0,25
0,40
70
15
from 15 to 40
ЭГ14
from 20 to 38
from 1,1 to 2,1
0,25
0,40
70
20
from 20 to 50
ЭГ61
from 25 to 45
from 1,3 to 3,1
0,17
0,40
70
21,5
from 25 to 50
ЭГ61А
from 36 to 60
from 1,5 to 3,2
0,15
0,30
70
22
from 20 to 50
ЭГ64
from 30 to 65
from 1,0 to 2,6
0,15
0,30
70
20
from 25 to 60
ЭГ71
from 20 to 35
from 1,1 to 2,1
0,3
0,40
70
20
from 20 to 30
ЭГ74
from 35 to 75
from 1,2 to 2,4
0,22
0,40
70
22
from 17,5 to 50
ЭГ84
from 30 to 70
from 1,5 to 3,5
0,19
0,40
70
22
from 20 to 60
ЭГ841
from 60 to 80
from 1,7 to 3,7
0,17
0,35
70
22
from 20 to 60
ЭГ85
from 35 to 75
from 1,6 to 2,6
0,20
0,40
70
22
from 17,5 to 50
LE34
from 6 to 16
from 2,0 to 3,6
0,19
0,50
80
20
from 15 to 25
EH34
from 8 to 18
from 1,8 to 3,3
0,17
0,40
80
20
from 15 to 35
Г3
from 8 to 20
from 0,6 to 1,4
0,30
0,50
80
15
from 15 to 25
Г33
not more 900
from 3,0 to 6,0
0,25
-
60
10
from 20 to 60
МГС21Н
(MGS21N)
not more 0,5
not more 0,6
-
-
50
25
from 15 to 40
МГС5
(MGS5)
from 2 to15
from 0,7 to 1,9
0,22
0,40
50
30
from 20 to 50
611ОМ
from 8 to 28
from 0,7 to 1,7
0,3
0,40
90
25
from 12 to 25
МГС22
not more 5
not more 1,5
-
-
50
25
from 15 to 40
ВТ5
from 35 to 65
from 1,2 to 2,8
0.25
0.4
50
30
from 30 to 65
Г27
from 18 to 45
from 1,4 to 3,4
0.22
0.3
-
30
from 30 to 60
Г21А
from 160 to 610
from 2,5 to 5,5
0.25
0.45
6
5
from 40 to 170
МГС7
from 1,5 to 20
from 1,6 to 2,4
0.3
0.35
55
30
from 20 to 60
МГС8
from 4 to 15
from 1,8 to 2,8
0.2
0.5
55
28
from 20 to 60